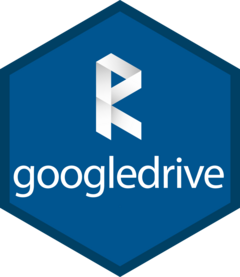 Move Drive files to or from trash
Source:
R/drive_trash.R
drive_trash.Rd
Move Drive files to or from trash
Arguments
file

Something that identifies the file(s) of interest on your Google Drive. Can be a character vector of names/paths, a character vector of file ids or URLs marked with as_id(), or a dribble.

verbose

This logical argument to individual googledrive functions is deprecated. To globally suppress googledrive messaging, use options(googledrive_quiet = TRUE) (the default behaviour is to emit informational messages). To suppress messaging in a more limited way, use the helpers local_drive_quiet() or with_drive_quiet().
Value
An object of class dribble, a tibble with one row per file.
Examples
# Create a file and put it in the trash.




file

 

<-

 drive_example_remote

(

"chicken.txt"

)

 %>%
  drive_cp

(

"chicken-trash.txt"

)




#>

 Original file:


#>

 

•

 

chicken.txt

 

<id: 1wOLeWVRkTb6lDmLRiOhg9iKM7DlN762Y>




#>

 Copied to file:


#>

 

•

 

chicken-trash.txt

 

<id: 1h5lE6NBlbMm41rgDSLZAwaVSXWxfQuJm>




drive_trash

(

"chicken-trash.txt"

)




#>

 File trashed:


#>

 

•

 

chicken-trash.txt

 

<id: 1h5lE6NBlbMm41rgDSLZAwaVSXWxfQuJm>





# Confirm it's in the trash


drive_find

(

trashed 

=

 

TRUE

)




#>

 

# A dribble: 102 × 3




#>

    name                 id                                drive_resource


#>

    

<chr>

                

<drv_id>

                          

<list>

        


#>

 

 1

 chicken-trash.txt    1h5lE6NBlbMm41rgDSLZAwaVSXWxfQuJm <named list>  


#>

 

 2

 name-squatter        1-_5PDgzasAnymjMKa8YjFGGdhq-Mya2Q <named list>  


#>

 

 3

 name-squatter        1dFvJgKgzUN-DmPW8py8_0fmfXuvN7Xi7 <named list>  


#>

 

 4

 name-squatter-upload 1M4oChRy-AtnKmWjbtxODfU0p00gxYPYs <named list>  


#>

 

 5

 name-squatter-rename 1lTdRtQkBAowb_hGwdWP5oq7nAxMgKfjR <named list>  


#>

 

 6

 name-squatter-mv     13FlFYR1XVHqXXuTqadeeZeKvV_eFJbsH <named list>  


#>

 

 7

 name-squatter-upload 1IvdfcQYjy9rG8oPegbuP2Q9JtrWPGgbw <named list>  


#>

 

 8

 name-squatter-rename 1CNKHlM84Xtqwu7yquED7vWW8qR19BhbK <named list>  


#>

 

 9

 name-squatter-mv     1uSg8aTc3ZLgtv_PC7D8kbusgcnpkoYNq <named list>  


#>

 

10

 name-squatter-upload 1uEsx5dENLFGEkJvGm3qpvmjUCIJhG6gE <named list>  


#>

 

# … with 92 more rows





# Remove it from the trash and confirm




drive_untrash

(

"chicken-trash.txt"

)




#>

 File untrashed:


#>

 

•

 

chicken-trash.txt

 

<id: 1h5lE6NBlbMm41rgDSLZAwaVSXWxfQuJm>


drive_find

(

trashed 

=

 

TRUE

)




#>

 

# A dribble: 101 × 3




#>

    name                 id                                drive_resource


#>

    

<chr>

                

<drv_id>

                          

<list>

        


#>

 

 1

 name-squatter        1-_5PDgzasAnymjMKa8YjFGGdhq-Mya2Q <named list>  


#>

 

 2

 name-squatter        1dFvJgKgzUN-DmPW8py8_0fmfXuvN7Xi7 <named list>  


#>

 

 3

 name-squatter-upload 1M4oChRy-AtnKmWjbtxODfU0p00gxYPYs <named list>  


#>

 

 4

 name-squatter-rename 1lTdRtQkBAowb_hGwdWP5oq7nAxMgKfjR <named list>  


#>

 

 5

 name-squatter-mv     13FlFYR1XVHqXXuTqadeeZeKvV_eFJbsH <named list>  


#>

 

 6

 name-squatter-upload 1IvdfcQYjy9rG8oPegbuP2Q9JtrWPGgbw <named list>  


#>

 

 7

 name-squatter-rename 1CNKHlM84Xtqwu7yquED7vWW8qR19BhbK <named list>  


#>

 

 8

 name-squatter-mv     1uSg8aTc3ZLgtv_PC7D8kbusgcnpkoYNq <named list>  


#>

 

 9

 name-squatter-upload 1uEsx5dENLFGEkJvGm3qpvmjUCIJhG6gE <named list>  


#>

 

10

 name-squatter-rename 1FlZtCAUMzkP6Yr61Rlu3qzT-xIN5MEkD <named list>  


#>

 

# … with 91 more rows





# Clean up


drive_rm

(

"chicken-trash.txt"

)




#>

 File deleted:


#>

 

•

 

chicken-trash.txt

 

<id: 1h5lE6NBlbMm41rgDSLZAwaVSXWxfQuJm>