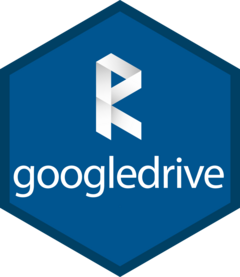 Changelog
Source:
NEWS.md
googledrive 2.1.1
CRAN release: 2023-06-11
drive_auth(subject =) is a new argument that can be used with drive_auth(path =), i.e. when using a service account. The path and subject arguments are ultimately processed by gargle::credentials_service_account() and support the use of a service account to impersonate a normal user (#413).

All requests now route through gargle::request_retry() (#380).

drive_scopes() is a new function to access scopes relevant to the Drive API. When called without arguments, drive_scopes() returns a named vector of scopes, where the names are the associated short aliases. drive_scopes() can also be called with a character vector; any element that's recognized as a short alias is replaced with the associated full scope (#430).

Various internal changes to sync up with gargle v1.5.0.
googledrive 2.1.0
CRAN release: 2023-03-22
Syncing up with gargle
Version 1.3.0 of gargle introduced some changes around OAuth and googledrive is syncing up that:
Shared drives
drive_ls(recursive = TRUE) now works when the target folder is on a shared drive (#265, @Falnesio).
drive_mv() no longer errors with "A shared drive item must have exactly one parent." when moving a file on a shared drive (#377).
Other
drive_auth() now warns if the user specifies both email and path, because this is almost always an error (#420).
drive_auth_config() was deprecated in googledrive 1.0.0 (released 2019-08-19) and is now defunct.
drive_example() was deprecated in googledrive 2.0.0 (released 2021-07-08) and is now defunct.
googledrive 1.0.1
CRAN release: 2020-05-05
Patch release to modify a test for compatibility with an upcoming release of gargle.
drive_share() gains awareness of the "fileOrganizer" role (#302).
Better handling of filenames that include characters that have special meaning in a regular expression (#292).
drive_find() explicitly checks for and eliminates duplicate records for a file ID, guarding against repetition in the paginated results returned by the API. It would seem that this should never happen, but there is some indication that it does. (#272, #277, #279, #281)
drive_share_anyone() is a new convenience wrapper that makes a file readable by "anyone with a link".
as_tibble() method for dribble objects now passes ... through, which could apply, for example, to tibble's .name_repair argument.
googledrive 1.0.0
CRAN release: 2019-08-19
The release of version 1.0.0 marks two events:
The overall design of googledrive has survived ~2 years on CRAN, with very little need for change. The API and feature set is fairly stable.
There are changes in the auth interface that are not backwards compatible.
There is also new functionality that makes it less likely you'll create multiple files with the same name, without actually meaning to.
googledrive 0.1.3
CRAN release: 2019-01-24
Minor patch release for compatibility with the imminent release of purrr 0.3.0.
googledrive 0.1.2
CRAN release: 2018-10-06
Internal usage of glue::collapse() modified to call glue::glue_collapse() if glue v1.3.0 or later is installed and glue::collapse() otherwise. Eliminates a deprecation warning emanating from glue. (#222 @jimhester)